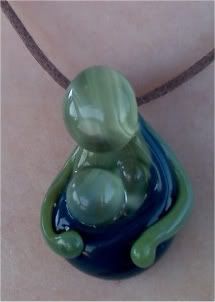 I got this gorgeous mama/sling baby glass pendant at the LLL conference from
Family Tree Glass
. The pic is a little dark. The sling part of the figure is more a teal color. It's only about an inch and a half tall in person.
Brooke makes all these beautiful glass pendants by hand. Aren't they gorgeous? She said she loved trades and I was able to swap some products in exchange. yay!
She has pregnancy, breastfeeding and family pendants as well, but this one was more my style.
Here's the link to her
on-line store
.